On this day in 1926, the first transatlantic telephone call was made between London and New York.

That same year, Charlotte Farrish, the law office's namesake, joined the firm and started one of the most celebrated legal careers in the history of Minnesota.
First Transatlantic Telephone Call
Though France joined to Britain by a telephone cable as far back as 1891, the Atlantic was a far greater challenge. With the state of technology at that time a simple cable link would not work. But the needs of commerce and politics meant that the task would inevitably be mastered.
On March 7, 1926 a short-wave radio signal was used to carry a phone conversation between the Post Office in London and an outpost of Bell Laboratories in New York. A one-way link had been very briefly achieved in 1915, but one-way conversations are of little value in the real world of communication.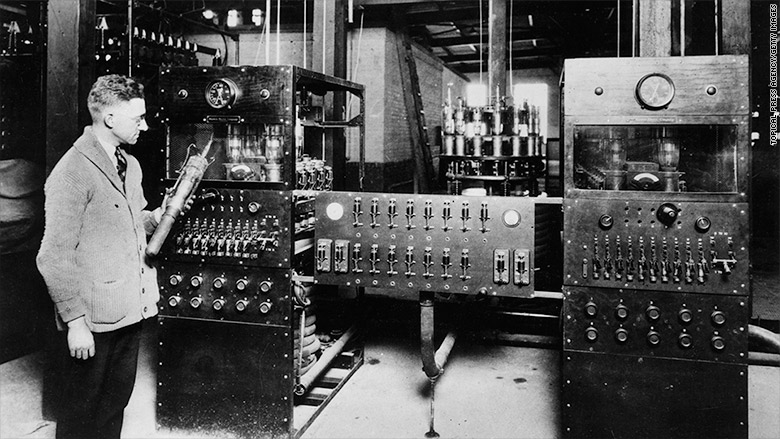 Part of a radio telephone transmitter Bell, now AT&T, used for transatlantic telephone tests
This was a corporate endeavor by Bell, now AT&T, and was not a system available commercially or to the average citizen. Less than a year later the first commercially available system arrived between New York and London began and later spread throughout North America and Europe. It took until 1956 for cable-technology to reach the point where the radio method would be dropped in favor of calls carried over a submarine cable between the two continents.
Charlotte Farrish
Charlotte Farrish practiced law in Mankato for 63 years. Her legacy continues as namesake to today's Farrish Johnson Law Office.
Farrish was born and raised in Sherburn, Minnesota, the oldest of three children. Her father, Malcolm J. Farrish, was a respected physician and her mother was a nurse. The family lived in a large house, part of which was the hospital. Farrish attributed her career choice to a childhood incident, in which some classmates were going to fight with another girl, Farrish learned about it and prevented trouble. She told her father she wanted to be a lawyer to make sure people "get what's fair." Malcolm Farrish died in 1915 when Farrish was 10 years old. Following her father's death, Farrish kept her promise to him to become an attorney.
In the early 1920s, Farrish's mother married her brother-in-law, Robert Farrish. Dr. Robert Farrish worked with the Mayo Clinic and was a former assistant to Dr. Charles Mayo before opening his own practice in Sherburn.
After skipping fourth grade and completing the seventh and eighth grades in one year, Farrish completed high school in Sherburn and began classes at the University of Minnesota at age 16. She earned her Bachelor of Arts degree in 1924. When Farrish entered law school, women attorneys were still a novelty. There were only five women in her class and she was the only one of the five who went on to practice law.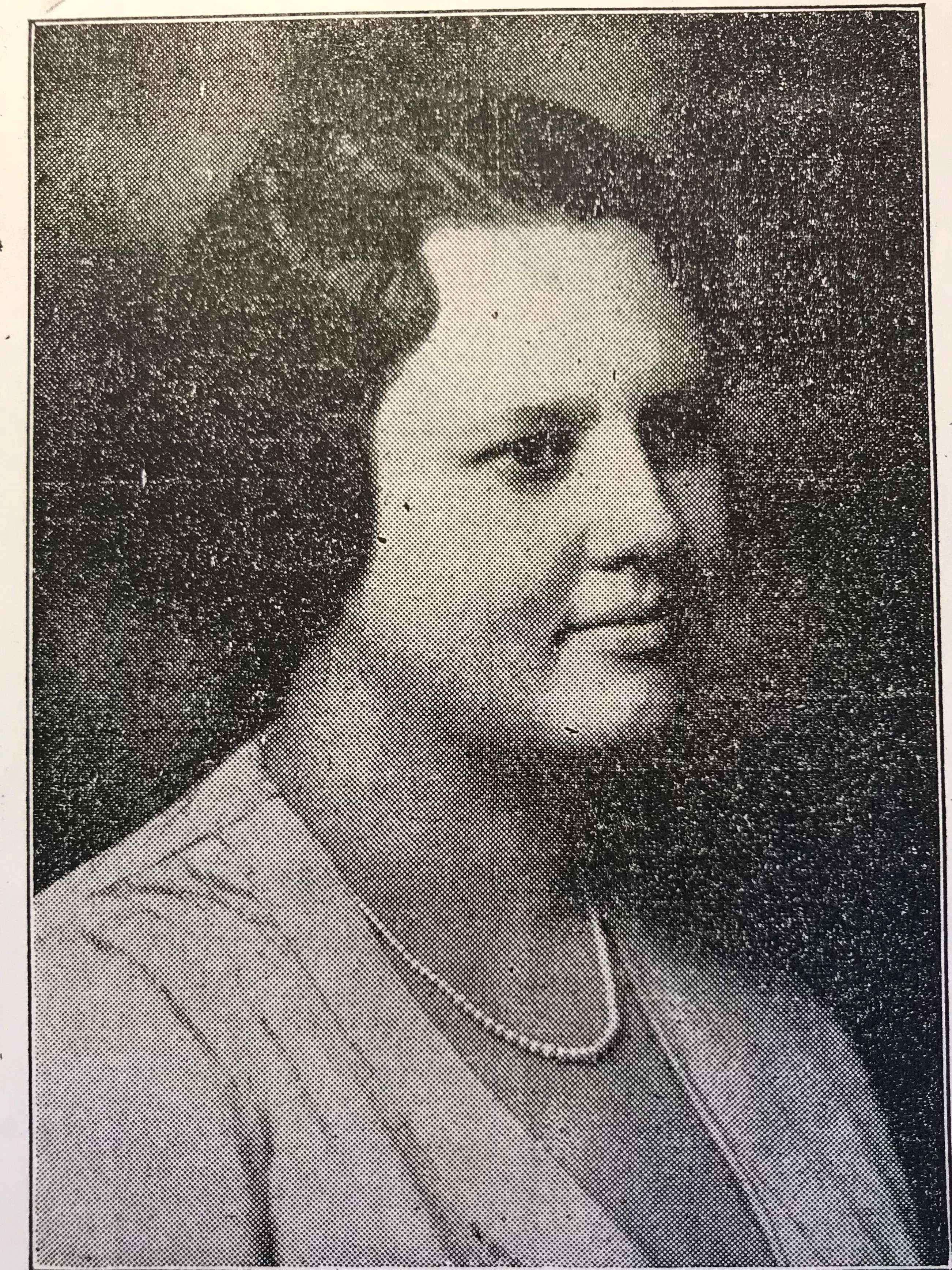 Charlotte Farrish
Farrish was selected to Phi Beta Kappa in her senior year and was selected to the Order of Coif, an honorary legal fraternity of which Farrish was the first woman member.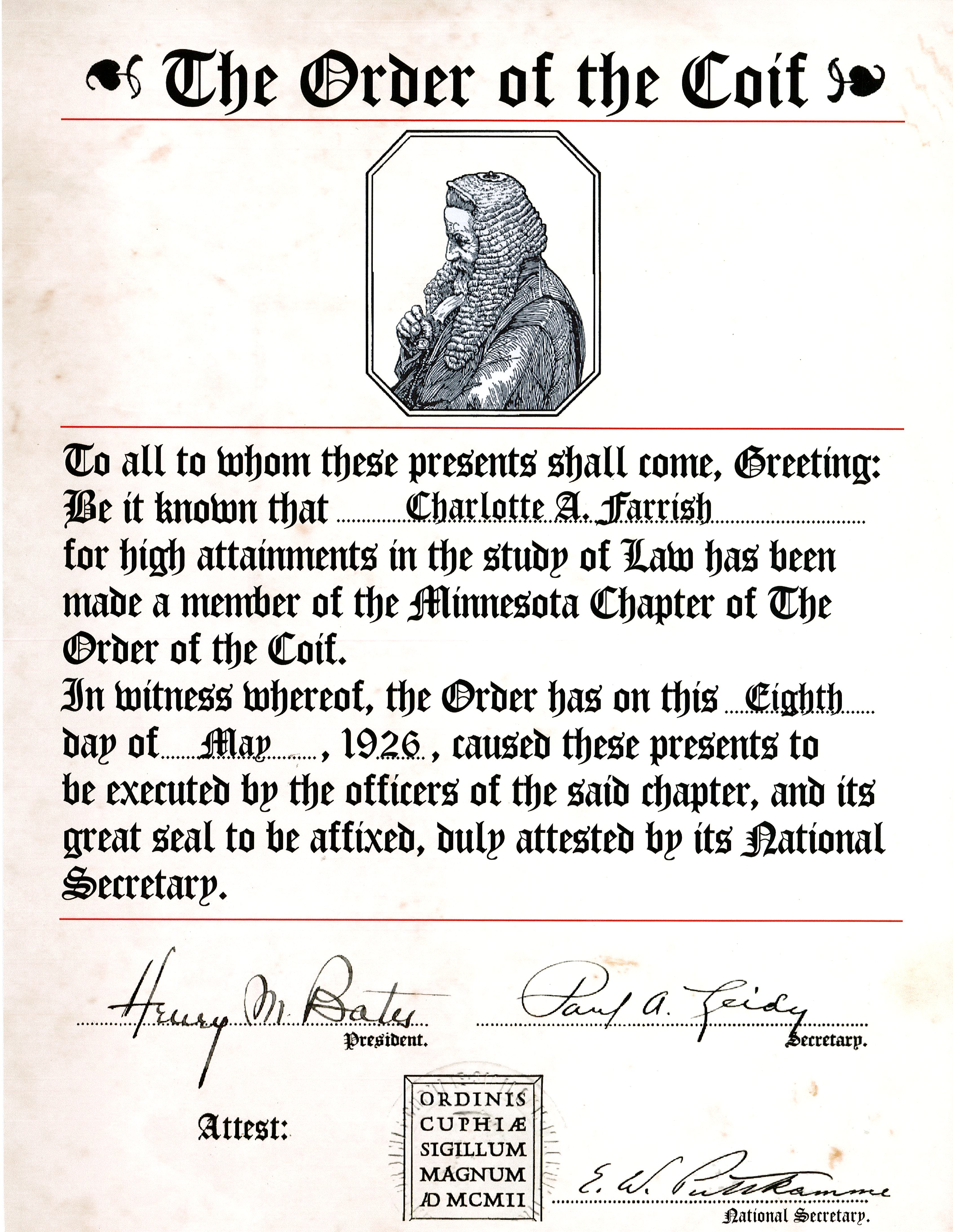 She was also the associate editor for the Minnesota Law Review.  One day she overheard a discussion about asking a woman to join the staff and several male staff members said they didn't want a woman. Farrish interrupted to ask them who they thought she was, to which they replied, "You're just different."
In 1926, after graduating from law school at the age of 22, Farrish began working for Attorney J.W. Schmitt of Mankato. Schmitt agreed to hire her if she would work the first year without pay; she did so without hesitation, recognizing it was what she needed to do to practice law.
Schmitt put the new female associate right to work, including registering cows which involved preparing a detailed drawing of distinguishing markings. She was asked to serve a subpoena on a construction worker, whom she tracked down at a saloon. Not wanting to make a scene, Farrish waited until the worker left the saloon and promptly served him. He was in court the next morning.


H.L. & J.W. Schmitt 1932 Letterhead including Charlotte Farrish
In 1927, Farrish, Mankato's only woman attorney and one of the first women to appear before the Blue Earth County District Court, won her first case before the local district court, which involved an automobile accident case.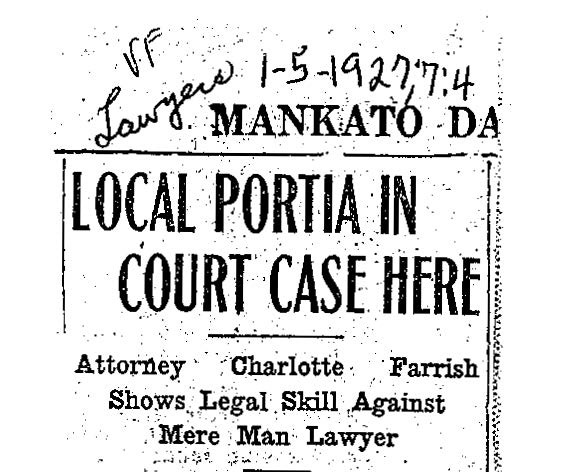 January 5, 2017 Headline
In 1931 Farrish married Bill Luwe but kept her name for professional reasons.  Farrish continued her practice of law until her retirement in 1990.  In 2007 she was named as one of the most influential lawyers in the history of the State of Minnesota.  As Farrish Johnson Law Office enters its 125th year, it is the tenth oldest law office in Minnesota and continues as one of the leading civil litigation and business law firms in Minnesota.
Check back with Witness to History at farrishlaw.com in the weeks ahead to learn more about Charlotte Farrish's illustrious career and more.
At a Glance: 1926
1926: Geo. A. Hormel & Co. developed the world's first canned ham.
April 28, 1926: Novelist Harper Lee is born.
June 1, 1926: Actor Andy Griffith is born.
June 1, 1926: Marilyn Monroe, actress and icon, is born.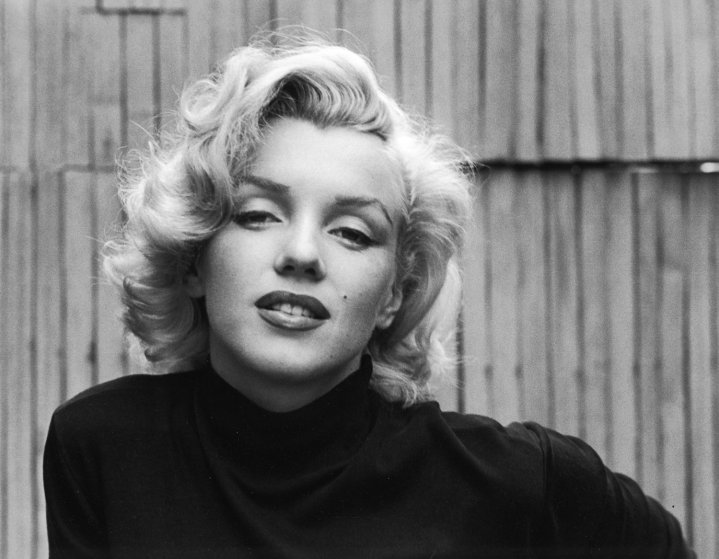 June 23, 1926: The first Scholastic Aptitude Test, or SAT, was given to about 8,000 young people.
August 18, 1926: A weather map is televised for the first time, sent from NAA Arlington to the Weather Bureau Office in Washington, D.C.
September 18, 1926: Great Miami Hurricane: A strong hurricane devastates Miami, Florida, leaving over 100 dead and causing several hundred million dollars in damage (equal to nearly $100 billion today.)
September 20, 1926: Twelve cars full of gangsters open fire at the Hawthorne Inn, Al Capone's Chicago headquarters. Only one of Capone's men is wounded.
October 31, 1926: Harry Houdini, illusionist and stunt performer, known for escape acts dies. He was born in 1874.
November 11, 1926: The plan for a United States Numbered Highway System is approved by the American Association of State Highway Officials, so establishing U.S. Route 66.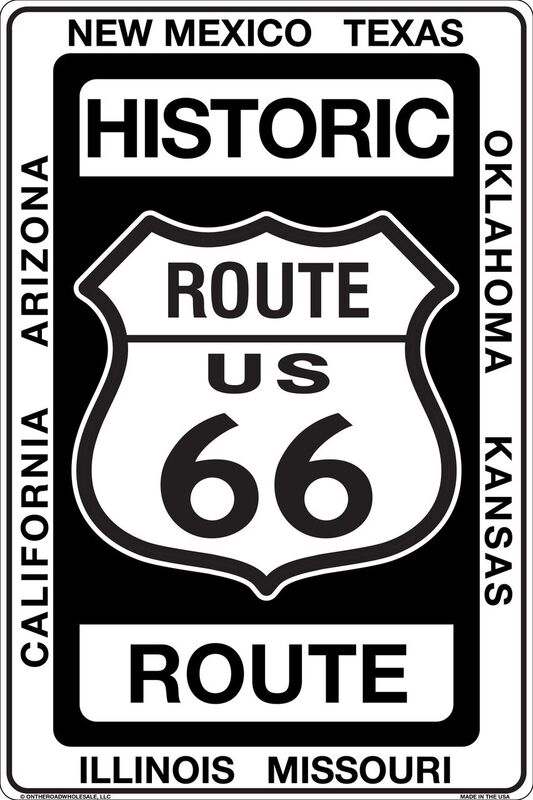 November 15, 1926: The NBC radio network opens with 24 stations (formed by Westinghouse, General Electric and RCA).