In 1975, Glen Taylor purchased Carlson Wedding Service, the foundation for what would become Taylor Corporation.

Also in that year, Dave Salsbery joined the firm that is now Farrish Johnson Law Office.
Taylor Corporation
Carlson Wedding Service owner, Bill Carlson, decided to sell the company in preparation for retirement. Glen Taylor had worked with Carlson since 1959 and purchased the business. He founded Taylor Corporation in 1975. Taylor Corporation produces interactive print and marketing solutions and is comprised of more than 80 subsidiaries and employs more than 12,000 people across 25 states, Puerto Rico, and nine foreign countries.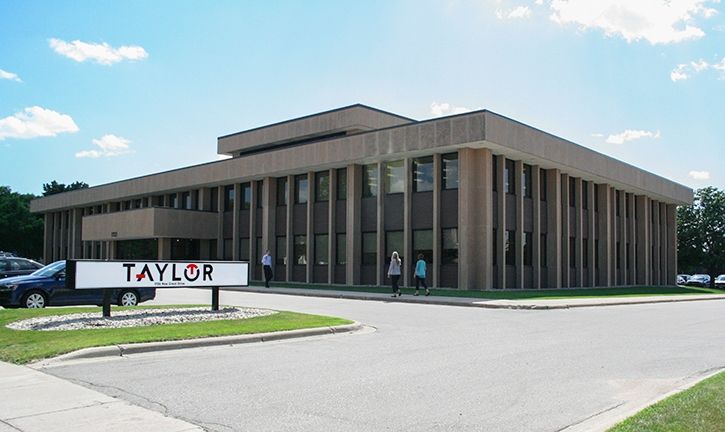 Mankato Taylor Corporation Headquarters
The Glen A. Taylor Foundation focuses on supporting education with emphasis on early child development, helping students in need by providing scholarships and other education assistance.'
David Salsbery
Dave Salsbery carried on the probate and real estate practice established by Charlotte Farrish.
Born in Winnebago, Minnesota, Dave was inspired to study law when his father, who knew Charlotte Farrish, commented what she and other lawyers do looked interesting. Dave found it appealing and had an opportunity to work at Farrish Johnson Law Office as a runner. He first interviewed with Bob Johnson in 1968 for the position then went to work recording documents for Charlotte and doing some investigative work for Bob.
Dave graduated from Mankato State College cum laude in 1970 and from William Mitchell College of Law in 1975. He continued working at Farrish Johnson Law Office as a new attorney, working in probate, estate planning and real estate.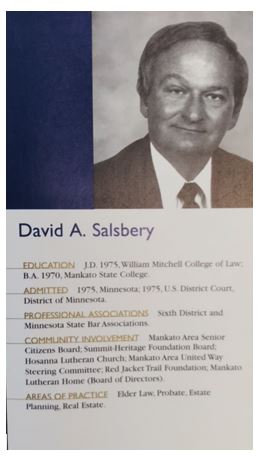 Early biographical information about Dave Salsbery
Also in 1975, Charlotte Farrish Luwe was selected as YWCA's Woman of Distinction. The women selected for this honor have made large impacts on the community that help women live independently, combat ignorance, actively try to end gender violence and provide community assistance.
Mankato's Union School closed in 1975. The first Blue Earth County school house was erected in 1855 and, as enrollment increased, the building was torn down and the Union School was built in 1867. Teaching all grades, the original building lasted through 1919, when again it was torn down and the second Union School was built. That school closed in 1975 due to declining enrollment and the building became part of Mankato Technical College. Today is an office building called Union Park, where from 1984-2006 Farrish Johnson Law Office resided.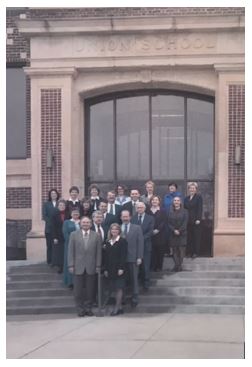 The FJLO Team outside Union Park, 201 North Broad Street, Mankato
Dave considered his ability to work with people one of his greatest strength and felt he worked in the right area of law. He knew Farrish Johnson held one of the best reputations in the area.
Dave's commitment to the community included involvement in a variety of civic organizations including Mankato Area United Way Steering Committee, Mankato Habitat for Humanity, Red Jacket Trail Foundation and the Summit-Heritage Foundation, just to name a few.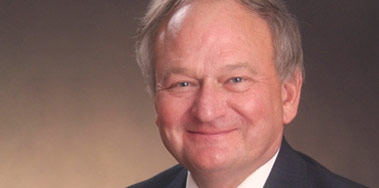 David A. Salsbery
In 2013, Dave retired from the practice of law. He and his wife, Donna, live in Mankato, and enjoy spending time with their family, in particular with their grandchildren. Dave is also an avid hunter, fisherman, and dog enthusiast.
At a Glance: 1975
1975: Marie Simmonds starts working at the Zapata restaurant in Mankato. She and her husband Rick Otto would go on to buy the business in 1987 and change the name to Zanz Mexican Restaurant.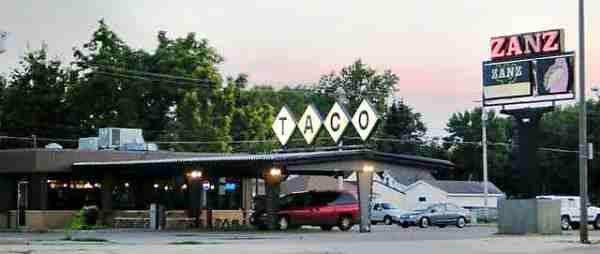 Mankato's iconic Zanz Mexican Restaurant
January 6, 1975: "Wheel of Fortune" premiers on NBC.
January 12, 1975: At Super Bowl IX the Pittsburgh Steelers defeat the Minnesota Vikings 16–6 at Tulane Stadium in New Orleans, Louisiana.
January 18, 1975: "The Jeffersons" spin-off from "All in the Family" premieres on CBS.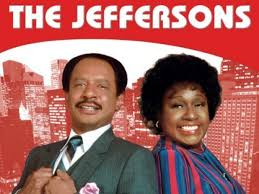 January 29, 1975: The Weather Underground bombs the U.S. State Department main office in Washington, D.C.
April 29, 1975: The last American military personnel leave Vietnam with the evacuation of the United States embassy in Saigon, completely ending American involvement in Vietnam and the Vietnam War. 1,053 Minnesotans gave their lives over the course of the war.
April 4, 1975: Microsoft is founded as a partnership between Bill Gates and Paul Allen to develop and sell BASIC interpreters for the Altair 8800.
June 7, 1975: Sony introduces the Betamax videocassette recorder for sale to the public.
June 20, 1975: Jaws is released and becomes one of the first blockbuster films.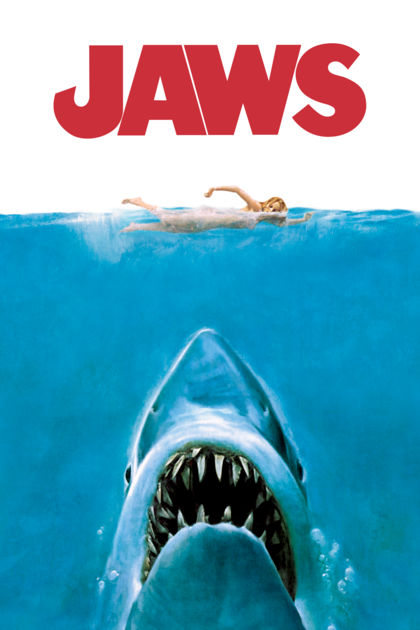 June 6, 1975: UK votes yes on a referendum on staying in the EU.
July 30, 1975: US Teamsters President Jimmy Hoffa disappears in suburban Detroit; Hoffa is legally declared dead in 1982.
September 5, 1975: First Assassination attempt on U.S.  President Gerald Ford by Lynette Fromme in Sacramento.
September 18, 1975: Heiress-turned-bank robber Patricia Campbell Hearst captured by FBI in San Francisco.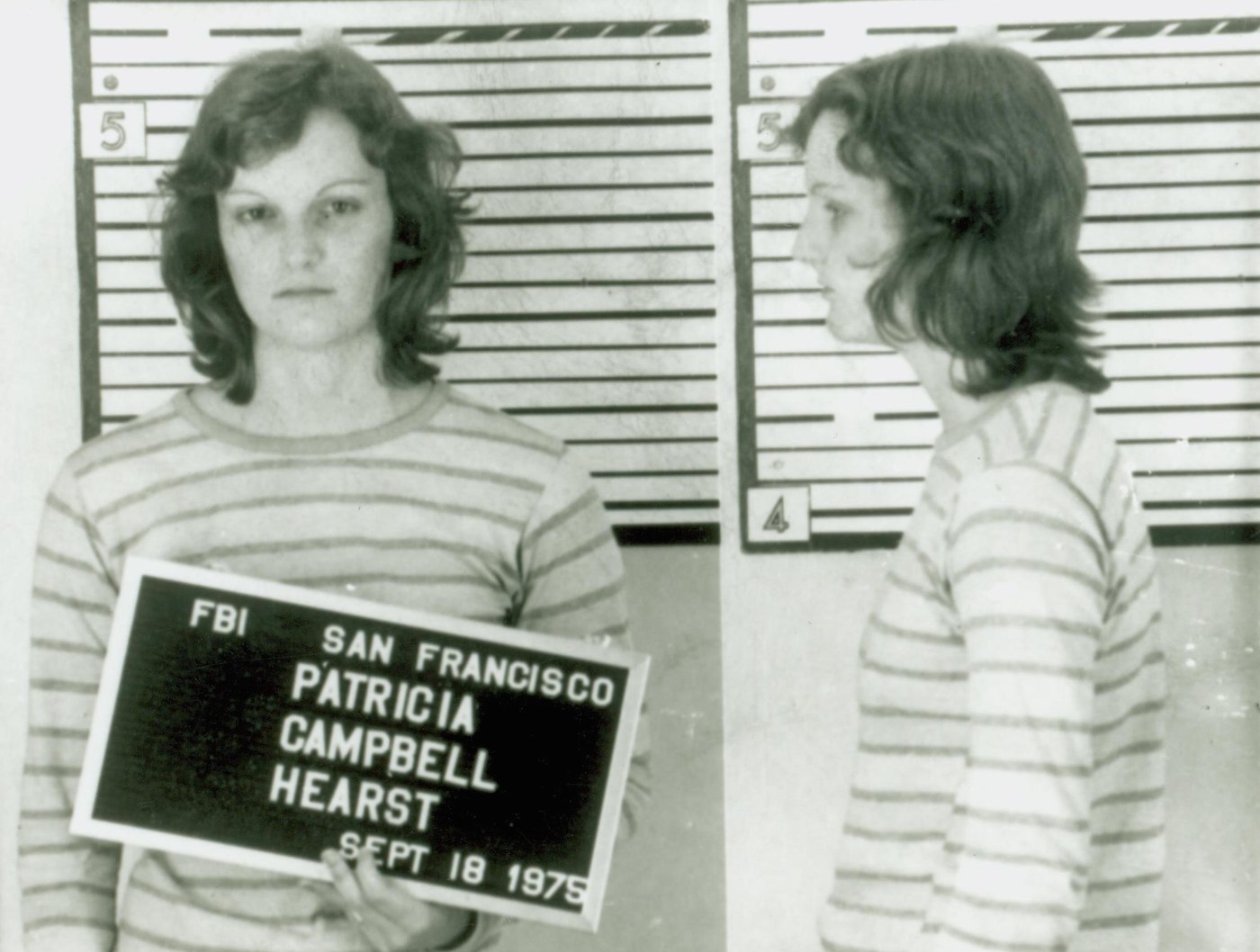 September 22, 1975: U.S. President Gerald Ford survives a second assassination attempt, this time by Sara Jane Moore in San Francisco..
October 11, 1975: "Saturday Night Live" premiers on NBC with George Carlin as host.
October 1, 1975: Muhammad Ali beats Joe Fraser for the heavyweight boxing title in "The Thrilla in Manila" match.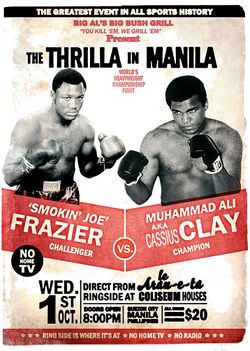 November 12, 1975: US Supreme Court Justice William O. Douglas retired after 36 years. Justice Douglas was born in 1898 in Maine Township Otter Tail County, Minnesota. He was nominated by President Franklin D. Roosevelt and his term of 36 years and 211 days is the longest in the history of the Supreme Court. He was succeeded by John Paul Stevens.