In the year of 1927 Charles Lindbergh made the first solo non-stop trans-Atlantic flight, from New York to Paris. The feat won Lindbergh the Orteig Prize and advanced public interest in aviation.

In 1927 Charlotte Farrish, the firm's namesake, won her first case. At the time she was Mankato's only female attorney and one of the first women to appear before the Blue Earth District Court.
Trans-Atlantic Flight
On May 21, 1927, American pilot Charles A. Lindbergh, a native of Little Falls, Minnesota, landed at Le Bourget Field in Paris, successfully completing the first solo, non-stop transatlantic flight and the first ever non-stop flight between New York to Paris. His single-engine monoplane, The Spirit of St. Louis, had lifted off from Roosevelt Field in New York 33 ½ hours before.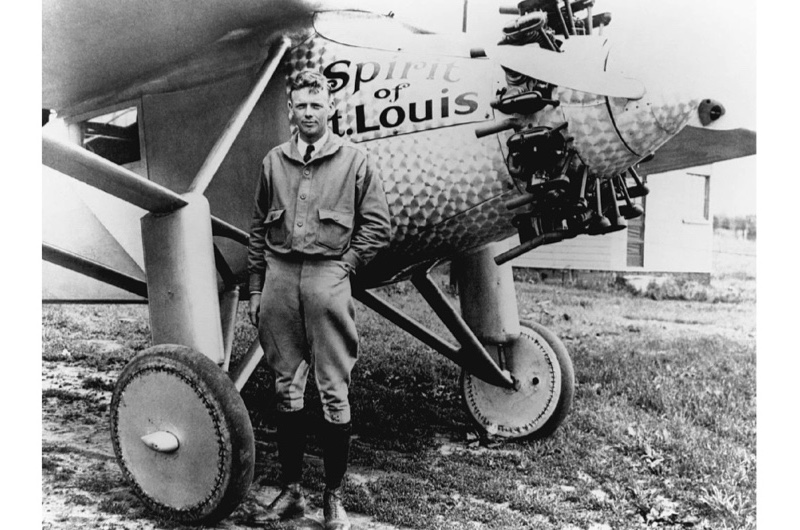 Aviator Charles Lindbergh standing next to The Spirit of St. Louis
On the night of May 19th, nerves and a noisy poker game kept Lindbergh up all night yet he managed to lift off from Roosevelt Field at 7:52 a.m. so loaded with fuel he barely cleared telephone wires at the end of the runway. At le Bourget Aerodome in Paris, tens of thousands of revelers gathered to await Lindbergh's arrival. At 10:24 a.m. local time Lindbergh made a perfect landing in the air field. The crowd surged on Lindberg, weary from his 3,600 mile-journey. He hadn't slept for 55 hours.  One in every two pilots who attempted crossing the Atlantic was killed during the attempt.
Charlotte Farrish
In 1927, Farrish, Mankato's only woman attorney and one of the first women to appear before the Blue Earth County District Court, won her first case before the local district court, which involved an automobile accident case. The two-day trial was the matter of Delbert Edwards vs Carney Company arising from a collision at the junction of Moreland Avenue and Le Sueur Street.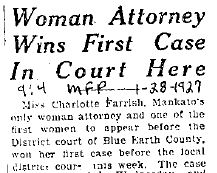 January 28, 1927 Headline
Farrish was the first woman attorney to practice in Mankato. She was an outstanding student at the University of Minnesota Law School and at the time she graduated she was the only woman at the University to earn membership in the honorary law society, Order of the Coif. She was also one of the few women to have a place on the Minnesota Law Review. Farrish was in the State League of Women Voters and was a past president of the Mankato League of Women Voters.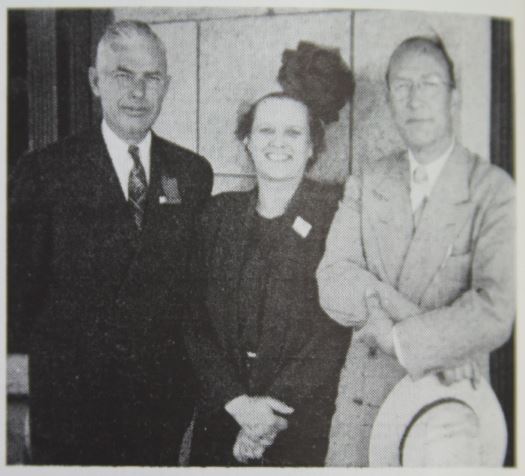 Photo of Charlotte Farrish from the University of Minnesota Archives
Also in 1927, Roosevelt Elementary School was completed. The West Mankato School, precursor to Roosevelt, was located on 6th Street, just two blocks from where Roosevelt is currently located. When Roosevelt opened in 1927, the president led the students from the old building to the new building with the school bell from West Mankato School. In 1953, an addition to Roosevelt was built, including a kitchen, lunchroom, playroom, twelve regular classrooms and two kindergarten classrooms.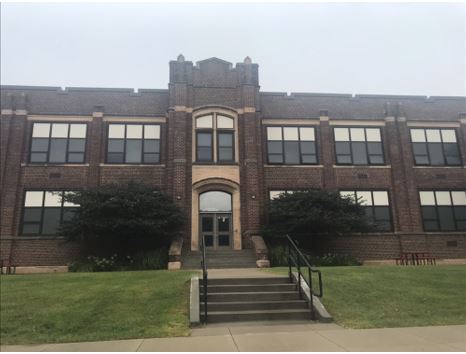 Roosevelt Elementary School, 600 W. 6th Street, Mankato
Farrish would practice law in Mankato for 63 years, making a name for herself as an excellent defense attorney. She lost most of her hearing from a swimming incident when she was in her thirties and from that time on wore a hearing aid. She then shifted her professional focus to probate and estate planning.
Farrish was appointed court commissioner of Blue Earth County, serving as district judge in civil matters in the absence of Judge Harry Johnson. Farrish was  active in the Business and Professional Women's club, affiliated with the Y.W.C.A. She served for over 20 years as a member of the Mankato Planning Commission, which began as an influential advisory group to a powerful appointed board in city government. She enjoyed bird watching, had a huge doll collection, and, on rare occasion, would golf.
To learn more about Charlotte Farrish, see our previous Witness to History post here.
At a Glance: 1927
March 2, 1927: Babe Ruth becomes highest paid baseball player at $70,000 per year.
May 26, 1927: Henry Ford and his son Edsel drive the 15 millionth Model T Ford out of their factory, marking the famous automobile's official last day of production.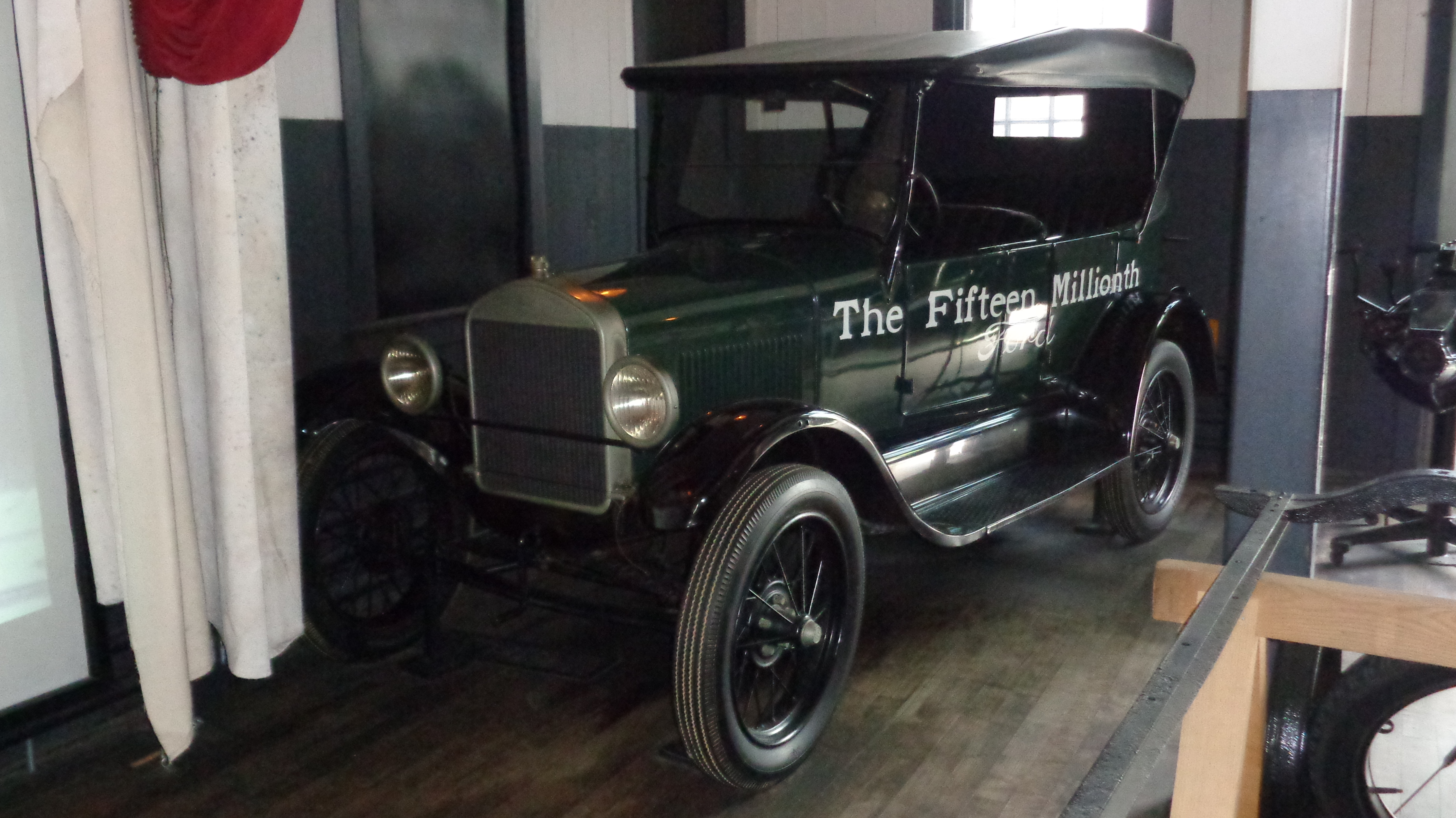 The 1927 Touring, the last Ford Model T built at the Highland Park Ford Plant
July 9, 1927: St. Paul attorney William T. Francis is appointed US minister to Liberia. A personal and civil rights lawyer and politician, Francis was the first African-American diplomat from Minnesota. In Liberia, he conducted a nine-month inquiry into allegations of government involvement in slavery and forced labor. He died in post in Liberia of yellow fever. His report helps achieve a League of Nations investigation that ultimately forced the president and vice president of Liberia to resign in 1930.
September 18, 1927: The Columbia Phonographic Broadcasting System (later known as CBS) is founded.
October 4, 1927: Work beings on Mount Rushmore. Sculptor Gutzon Borglum and 400 workers sculpted the colossal 60-foot-high carvings of U.S. Presidents George Washington, Thomas Jefferson, Theodore Roosevelt and Abraham Lincoln. It is completed October 31, 1941.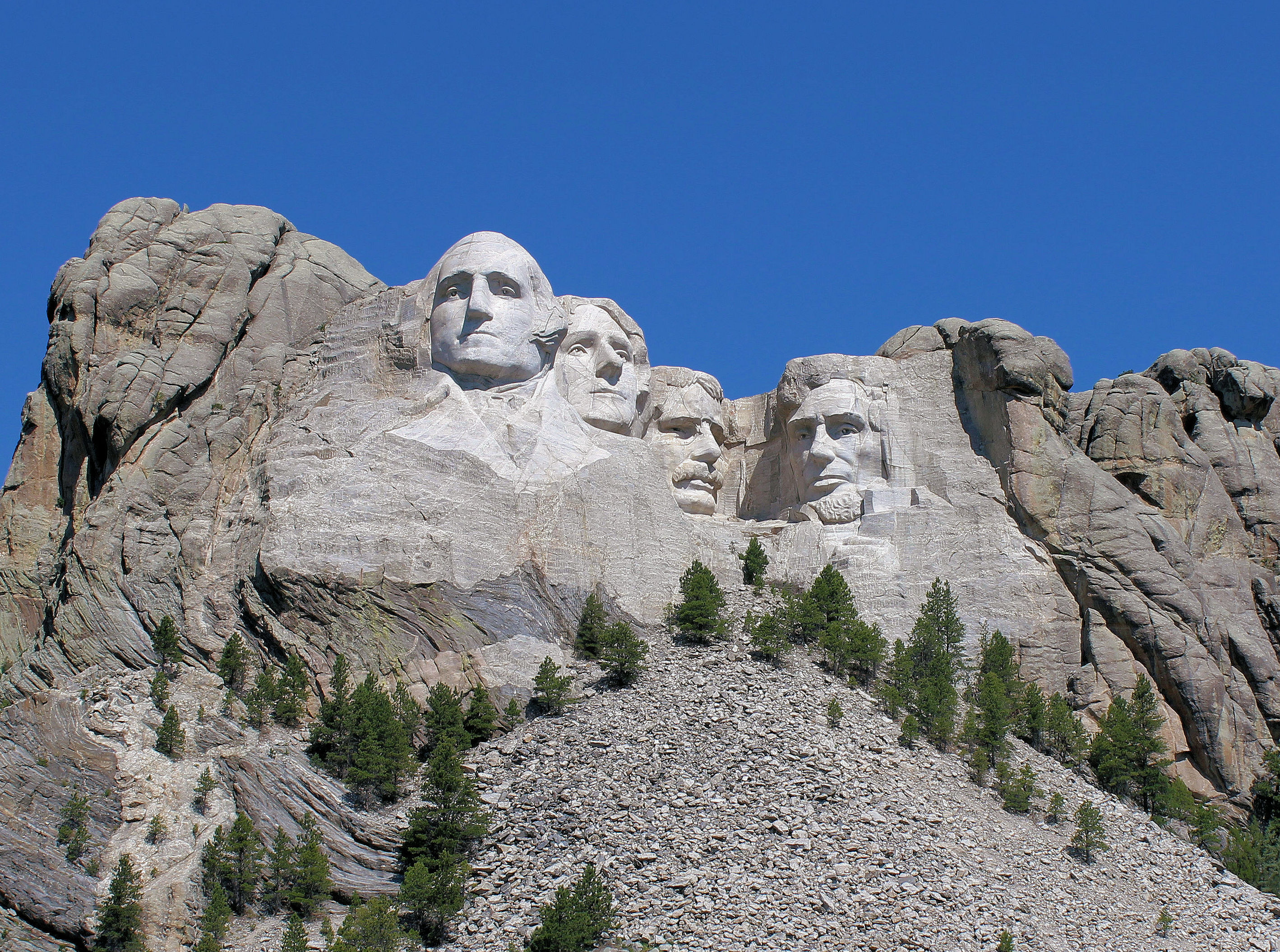 Mount Rushmore in the Black Hills in Keystone, South Dakota was named after Charles E. Rushmore, a prominent New York lawyer during an expedition in 1885. It was originally known to the Lakota Sioux as "The Six Grandfathers" or "Cougar Mountain."
October 6, 1927: The first film to feature synchronized dialogue, The Jazz Singer, staring Al Jolson and May McAvoy, debuts in New York City and marks the end of the silent film era.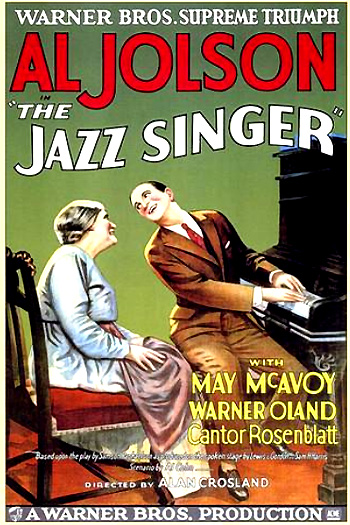 November 13, 1927: The Holland Tunnel under the Hudson River opens, connecting New York City with New Jersey.
1927: Mankato organizes its first troop of the Boy Scouts of America, sponsored by the Veterans of Foreign Wars. By December 31, 1927, membership grew to 477 scouts in 24 troops.
1927: President Calvin Coolidge is given a grand ceremonial feathered headdress by Sioux Chief Henry Standing Bear and officially declared an honorary tribal member. President Coolidge signed the Indian Citizen Act of 1924 which grants all Native Americans born in the U.S. citizenship.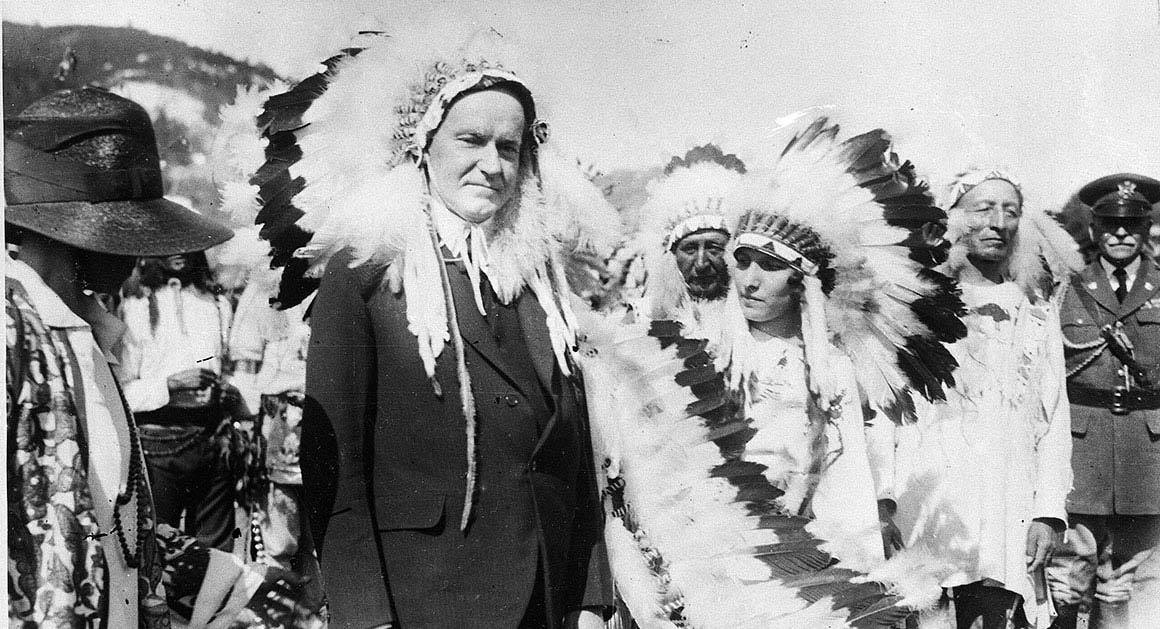 U.S. President Coolidge receives a ceremonial headdress from the Sioux Nation in the Black Hills region of North Dakota