This month is 1914, Greyhound Lines, Inc. began in Hibbing, MN. The first route transported iron ore miners between Hibbing and Alice, MN for 15 cents

That same year, Harrison L. Schmitt, the founder of what would become Farrish Johnson Law Office, served as president of the Minnesota Bar Association.
Greyhound Lines, Inc.
Using a 7-passenger car, Carl Eric Wickman, a Swedish immigrant, began a bus service with Andy Anderson and C.A.A. Heed, transporting iron ore minors in Minnesota. The company got its first actual buses in 1921; they were grey and people started calling them greyhounds. It would take another nine years before the company formally changed its name to Greyhound. The greyhound dog was unveiled as its mascot in 1930 and a national radio advertisement campaign was launched.

The Hubmobile 7-passenger car and one of the first greyhound mascots.
By 1927 the buses were making transcontinental trips from California to New York. During World War II, nearly half the Greyhound bus drivers were women, taking soldiers across the country as needed and when the Federal Interstate Highway System was established, GM designed the Scenicruiser exclusively for Greyhound. For decades, Greyhound has offered free rids to runaway children that want to return home.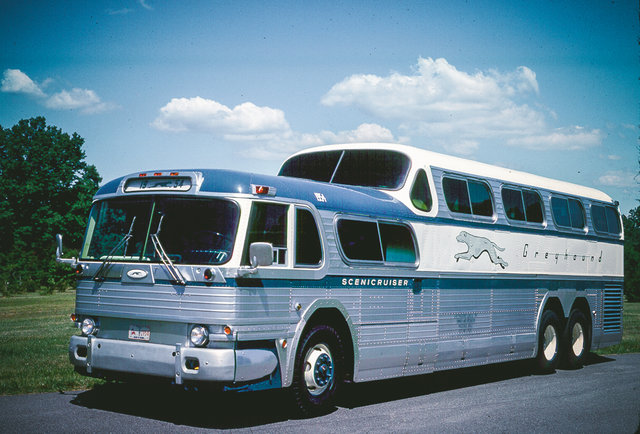 The Greyhound Scenicruiser
Until the mid-1980s, Greyhound owned Dial soap and Armour Hot Dogs. Today, Greyhound operates 123 routes serving over 2,700 destinations across the United States and most recently to Mexico and also offers Greyhound Package Express services.
Harrison L. Schmitt and the MSBA
Harrison L. Schmitt practiced law in Mankato for 22 years. A Mankato High School graduate, he taught for four years before attending law school at Northwestern University in Chicago. After being admitted to the bar in 1893, he began his practice in Mankato, founding what is now known as Farrish Johnson Law Office. On August 13, 1894, Mr. Schmitt married Esther M. Grannis; together they had four children.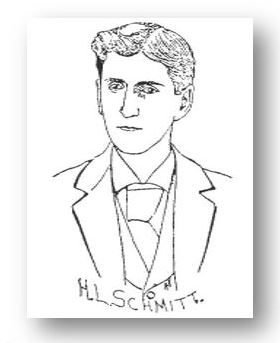 An illustration of Mr. Schmitt from an 1894 newspaper article which stated, "The court trembles when the flood-gates of his wit burst open and the stream comes thundering through."
In 1900 Mr. Schmitt formed a partnership with his youngest brother, John W. Schmitt, and together they handled many of the important legal business matters in their area of the county.   Harrison L. Schmitt has been described as good-natured and in possession of a wit that knew no bounds.
Mr. Schmitt was an active member of both the Blue Earth County Bar Association and the Minnesota State Bar Association. During the annual convention of the MSBA on August 20-22, 1914, Mr. Schmitt was elected President of the organization.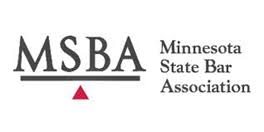 The Minnesota State Bar Association is a voluntary bar association for the state of Minnesota, including as members lawyers, judges, and other legal practitioners, such as clerks, registrars, and paralegals. The MSBA is one of the oldest state bar associations in the United States. Formed in 1883, the MSBA charter members paid three dollars with annual dues of two dollars per year. Today the MSBA governance structure includes a policy-making body, the "Assembly," and a Board of Directors, the "Council." The MSBA offers practice tools to legal professionals as well as services to the public.
Also in 1914, Paul Bunyan, the mythical lumberjacking giant who logged most of North America, was created as an advertising gimmick by the Red River Lumber Company in Minneapolis.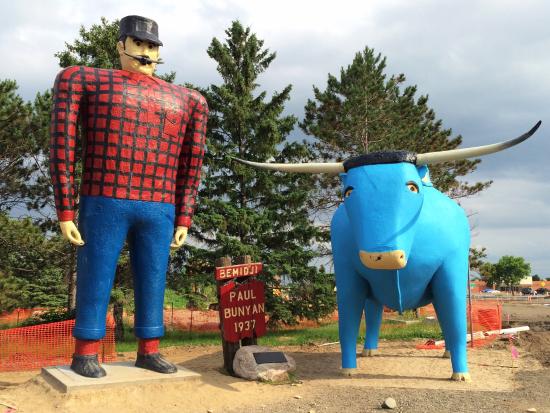 Paul Bunyan statue, Bemidji, MN
On May 18, 1914, the Federal Reserve Bank of Minnesota was incorporated, one of 12 district banks established after the signing of the Federal Reserve Act by President Woodrow Wilson on Dec. 23, 1913.
Mr. Schmitt died on January 1, 1921 at the age of 54, in Minneapolis. He was buried at Glenwood Cemetery in Mankato.  Learn more about Mr. Schmitt here.
At a Glance: 1914
January 5, 1914: The Ford Motor Company announces an eight-hour work day and a minimum wage of $5 for a day's labor, up from $2.40.
February 7, 1914: Charlie Chaplin debuts silent film "The Little Tramp" in "Kid Auto Races at Venice."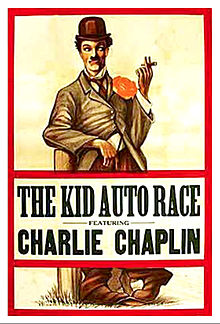 April 22, 1914: Babe Ruth's first professional game, as a pitcher, is a 6-hit 6-0 win.
April 23, 1914: The baseball stadium Weeghman Park, later known as Wrigley Field, opens in Chicago.
May 9, 1914: President Woodrow Wilson proclaims the first Mother's Day holiday.
June 28, 1914: Franz Ferdinand, Archduke of Austria and his wife Sophie are assassinated in Sarajevo by Serb nationalist Gavrilo Princip, the casus belli of the First World War.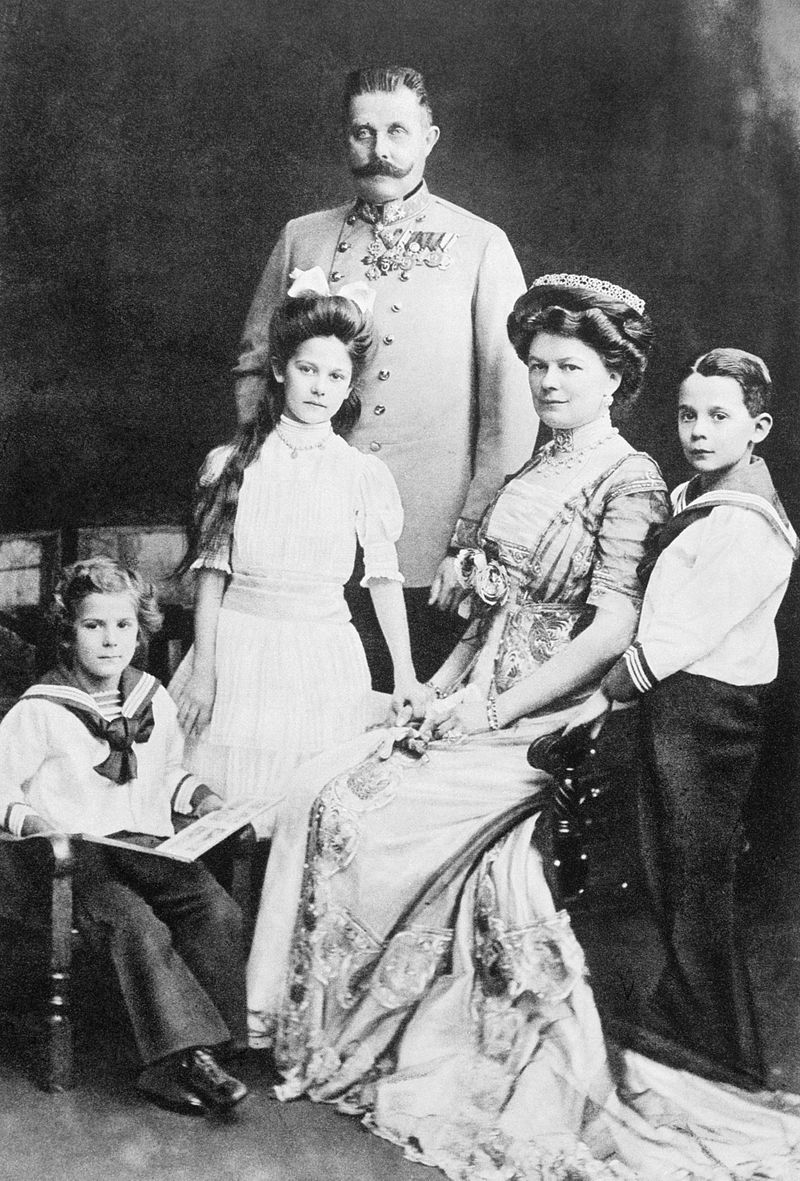 Archduke Franz Ferdinand with his wife Sophie, Duchess of Hohenberg, and their three children (from left), Prince Ernst von Hohenberg, Princess Sophie, and Maximilian, Duke of Hohenberg, in 1910
August 5, 1914: The first electric traffic light is installed in the USA on the corner of East 105th Street and Euclid Avenue in Cleveland, Ohio.
October 19, 1914:  The United States Post Office first uses an automobile to collect and deliver mail.
August 15, 1914: The Panama Canal opens. The Panama Canal took 34 years to build and provided a connection for shipping from the Atlantic to the Pacific.
December 24-25, 1914: A series of widespread but unofficial ceasefires along the Western Front of World War I occur. The soldiers of Germany, Russia, France, and Britain call a Christmas truce with soldiers crossing the areas of no man's land, calling out "Merry Christmas" in their enemies' native tongues. Soldiers exchange food and souvenirs, sing carols, and play football.  There are joint burial ceremonies and prisoner swaps.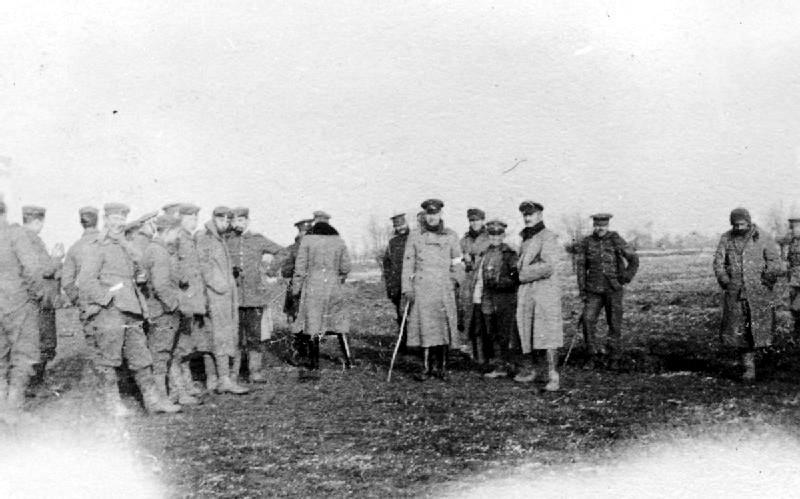 British and German troops meeting in no man's land during the unofficial truce